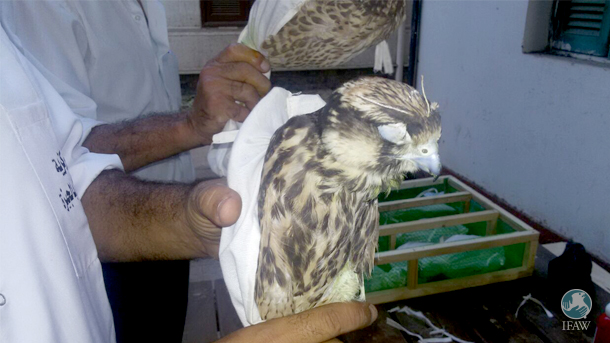 Security authorities at Cairo International Airport managed to stop an Egyptian passenger who had attempted to smuggle 41 peregrine falcons into Bahrain, where he allegedly intended to sell the iconic birds.
The falcons were seized and confiscated after a customs officer charged with monitoring an x-ray scanner detected suspicious dark items inside large bags.
They discovered sedated falcons. In an apparent attempt to prevent them from opening their eyes and panicking, the smugglers had stitched closed their eyes with surgical threads.
The boxes in which they were found also contained ice bags to keep them cool during transit although it was likely that direct contact with the ice was dangerous to the birds.
Upon notification, the Director General of Cairo Airport Veterinary Quarantine, Dr. Safwat Al Mubarak, determined that the falcons were peregrines.
According to App I rules of the Convention on International Trade in Endangered Species (CITES), international trade in peregrine falcons for commercial purposes is strictly prohibited. According to Dr. Mubarak, the value of a single falcon can reach 300,000 Egyptian pounds, about $34,000 USD.
The birds were transferred to the wildlife administration in the Giza Zoo for care. "Following the removal of eye stitches and wing wraps, treatment of wounds and necessary investigation, the birds would be released into their natural habitat in near future," Dr. Ragy Toma, head of wildlife administration said.
IFAW MENA office is currently following up with the CITES Management Authority of Egypt to offer any assistance they may need for release.
For centuries, falcons have held a particular cultural significance in the Middle East, where traditional falconry is still widely practiced.
With the intent of eliminating the illegal trade in falcons in their countries, the United Arab Emirates, Saudi Arabia and other Arabian peninsula countries established a falconry passport scheme requiring that all falcons must have passports that are granted to their owners only after those owners provide authorities with, among other information, requisite CITES documentation.
–DAK
GD Star Rating
loading...
Article source: IFAW