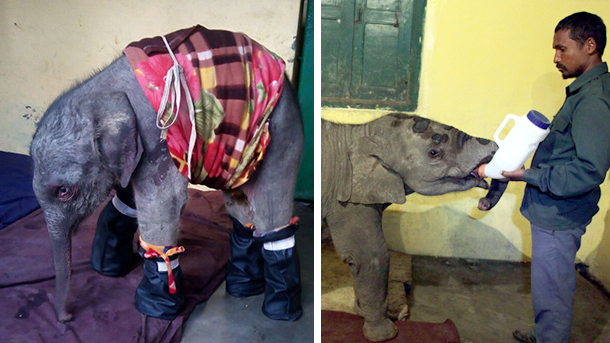 Two elephant calves, rescued in separate incidents, have been admitted to the International Fund for Animal Welfare (IFAW) wildlife rescue centre located near Kaziranga National Park, a cooperative rescue, treatment and rehabilitation facility sponsored and run by IFAW, Wildlife Trust of India and the Assam Forest Department. They were admitted for treatment and long-term care during the past week.
A female calf, just about two weeks old, was rescued by forest department personnel from a drain in the Nanoi Tea Garden under the Salna Forest Range. The natal herd was nearby, and a reunion with her herd was attempted. However, the calf was found the next morning, abandoned in the nearby Amlakhi Tea Garden. Given her poor physical condition, the forest department contacted the centre and brought her in. "The calf was very weak and had visible injuries on its navel area and tail. It was in a state of severe trauma," said Dr Panjit Basumatary, the attending veterinarian.   
Three days later, an eight-month-old male elephant calf was rescued by labourers from a drain in the Dhendai Tea Estate under the Central Forest Range in Amribari. He was brought by forest department personnel to the centre after his natal herd could not be located. "The calf was dehydrated and severely stressed since it was transported without sedation," said Dr Basumatary. "We administered oral rehydration therapy after a scheduled interval to stabilise it."
Both calves are currently housed in the centre's Large Animal Nursery and are closely monitored by staff. The female calf has ventured into her small outdoor paddock and now shows visible signs of improvement.
With these two new additions, there are now twelve orphaned elephant calves, three males and nine females. The young elephants are hand-raised at CWRC with the goal of eventual wild rehabilitation.
–RGC

GD Star Rating
loading...
Article source: IFAW