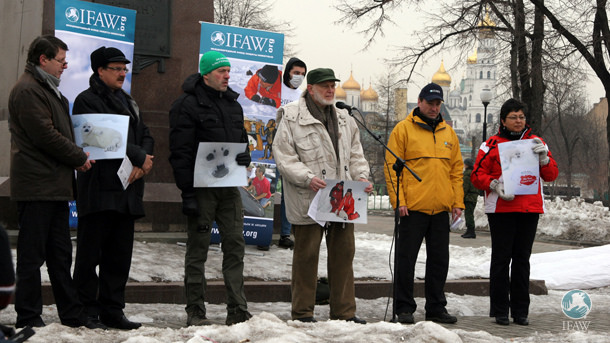 I knew from the title of her email —  "Alexey Yablokov" —  that my dear colleague Masha, Dr. Maria Vorontsova, the longtime director of IFAW in Russia, was writing to share the news we'd both been dreading for months.
Dear Patrick,
That is with great sadness, I have to inform you, that Alexey Yablokov had passed away today, he was 82 . . . Yablokov  was not only a great person and lead scientist on whales, but as well a good friend of IFAW…
Within minutes, remembrances of the great person began flooding our inboxes. Some from scientists and campaigners worldwide who had worked with him for decades, others from advocates and, thankfully, filmmakers, who had first met and interviewed him in his last months. Rightly so, because IFAW's good friend Alexey Yablokov was, figuratively and literally, a green giant.
"A courageous, committed scientist, environmentalist and politician" wrote Lesley O'Donnell former director of IFAW's EU office in Brussels, "who strove for better conservation against all the odds."
"He will be remembered as a great environmentalist and conservationist," predicted retired MEP and IFAW Program Advisor Hemmo Muntingh, himself one of the most outspoken environmental leaders of his generation. 
"I was glad to hear one of Alexey's last messages, delivered by video link because he was too ill to travel, to a Marine Mammal Conference in Astrakhan in November," shared Dr. Justin Cooke, an IFAW Science Advisor.  "He gave a very motivating and encouraging address, directed particularly at the younger people, encouraging them to continue the work for spreading knowledge of marine mammals and fighting for their protection, regardless of adversity and the inevitable ups and downs on the way."
Alexey knew all about fighting for the global environment, protecting whales and other marine mammals, and persisting in the face of adversity.  Born in Moscow, his early studies were focused on whales and dolphins, launching a career that would catapult him to the vanguard of the environmental movement in the former Soviet Union.
Until age withered him, Yablokov's physical stature was imposing and he made massive strides for science-based conservation throughout his career.  He founded the Soviet branch of Greenpeace in Moscow, and, years later, launched the first Green party in Russia. 
Together with Masha's father, Dr. Nicolay Vorontsov, Yablokov championed democratic principles and progressive environmental policies in the first popularly elected Russian Parliament or Duma manifesting his commitment to build a better world for animals and people. Both were also leaders in the Global Legislators Organization for a Balanced Environment (GLOBE) where, green in judgement, I first met and began looking up to Alexey in 1992.  He was patient with my halting Russian; less so with the pace of my email responses – "Patrick Ramage," he once fumed in a message to Masha, "does he still exist?"
A courageous critic of corrupt Soviet whaling, Yablokov in 1995 created the Marine Mammal Council of Russia – ensuring the continuing existence of world class marine research and the provision of expert advice and peer-reviewed science to government policymakers and other stakeholders. A longtime member of the Russian Academy of Sciences, he was similarly honored by countless counterpart academies around the world.
From highlighting the urgent threat of unsecured nuclear stockpiles to joining an IFAW fact-finding trip and then promptly securing an end to the commercial slaughter of baby harp seals on the White Sea, Alexey's blunt candor, calls for action, and towering personal example drew unprecedented attention to the urgent environmental challenges confronting his mother country and the international community.
Throughout the second half of his long life he bent Russian policy and the ears of international policymakers to his will, including senior Members of the US Congress and Administration and elected leaders in European and Asian capitals. This good friend of IFAW and so many others inspired generations of environmental leaders around the world.        
"We lost a great man today." Masha's note concluded. Our friend Alexey Yablokov exists no more, but lives on in our work and his own leviathan legacy.  He was 83.
–PRR
GD Star Rating
loading...
Article source: IFAW