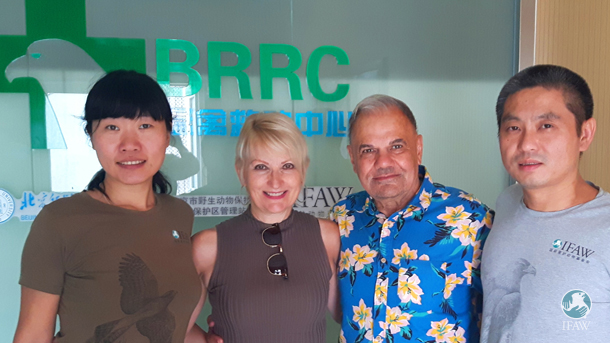 IFAW supporters Adrien Gary Amadeo were traveling to China for humanitarian reasons – their own project to help children in impoverished rural schools.  They decided to include their love of animals on their trip as well with a visit to IFAW's Bejing Raptor Rescue Center (BRRC).
IFAW established the Raptor Rescue Center in Beijing in 2001 to rescue and rehabilitate sick or injured wild birds of prey and those confiscated from illegal traders. Beijing is home to many species of raptors; it's also on a major migration route for many raptors. Raptors are protected by Chinese law, but are threatened by habitat loss and illegal trade.
At the BRRC, staff have rescued over 4,000 birds of prey including more than 30 different species of hawks, eagles, owls and vultures in the center's 16 years.
 Adrien and Gary were kind enough to share the story of their September visit to the BRRC with us:
"Before leaving on our recent trip to China, we watched a television documentary which mentioned IFAW's BRRC in China. Immediately, we knew we had to visit the center while in Beijing. 
We have always loved nature and animals. Our love of raptors came from our visit to Pacific Northwest Raptors on Vancouver Island. This wonderful experience led me to seek to volunteer with their Raptor Rescue Society.
My husband and I were very lucky to have been given the opportunity to visit the Beijing Raptor Rescue Centre.  We received a very warm welcome and a private tour of their facility. The centre has their own very impressive surgical facility where I was able to examine various slides under the microscope. I am a scientist at heart so this was a dream come true for me!
Thank you Steele Shang, Lei Zhou and Crane Zhang at the Beijing Raptor Rescue Centre for your warmth and kindness."
READ: Beijing Raptor Rescue Center and GoPro team up for Birds of Prey
Thank YOU, Adrien and Gary for sharing your story and your passion for animals and thank you to all of IFAW's supporters – this work to help animals around the world would not be possible without you.
–LW

GD Star Rating
loading...
Article source: IFAW